Proteksi Petir Zeus atau sering juga disebut Penangkal Petir merupakan unggulan produk Indonesia (Surge Lightning Protection Indonesia) yang sudah banyak digunakan di berbagai sarana penting seperti: oil tank farm, tanki minyak dan gas, sarana tower telekomunikasi, data centre, kilang minyak dan gas, jaringan distribusi dan transmisi PLN, data & computer centre. Penangkal petir juga sangat melindungi berbagai jenis power plant seperti Solar PV Farm, PLTS Pembangkit Listrik Tenaga Surya dan PLTB Pembangkit Listrik Tenaga Hybrid Wind Turbine dan Solar PV.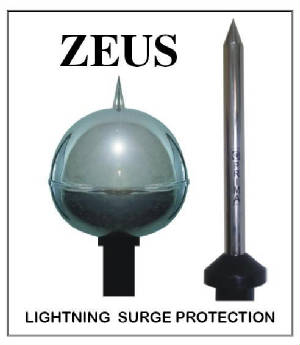 Produk proteksi petir dan penangkal petir Zeus telah di export dan digunakan diluar negeri seperti di Asean : Cambodia, Vietnam, Malaysia, Singapore, Phillipine Brunei Darussalam, Timor Leste dan lainnya. Produk penangkal petir Indonesia dan telah di test di Stasiun Penelitian Petir ITB / Lab. Tegangan Tinggi ITB Bandung, di CPRI Centre Power Research Institute Bangalore India, High Voltage Current Laboratory Delft Netherlands. Produk penangkal petir Zeus kualitas tinggi telah memenuhi standard NFC 17-102, IEC 62305 , IEC 61204 dan Standard Indonesia
Our Location
Contact Us
Jl.Mampang Prapatan XV No:18.
Jakarta-12790 – Indonesia
Telp: +62-21-798.8443 
+62-811-996.9810.
Email:
This email address is being protected from spambots. You need JavaScript enabled to view it.   This email address is being protected from spambots. You need JavaScript enabled to view it.
Zeus company develops & manufactures the surge & lightning arrester product suitable to protect equipment & installation in the tropical  sub-tropical andcountry.
 The company PT.Zeus Prima Garda (ZPG) established year 1984. The company has long experience in the implementation of Lightning Protection System (penangkal petir) in this tropical country.  PT Zeus Prima Garda  has manufactruring capability and capacity to produce lightning surge arrester petir  which is suitable for application in the tropical  and sub-tropical region.  Our product is fully recognized by customer as the most reliable and suitable product to protect equipment and installation against lightning hazard in the tropical area. Zeus lightning protection / penagkala petir products has been used & installed  among a others in various industry facilities in Indonesia and abroad.