Protection for Control System
Control system is prone to dangerous and damaging transients and surge which can be induced into signal lines as result of lightning , power switching and electrostatic discharges.
Prima Control Guard Ultra Slim -C24
Surges and transients can bring catastrophic results to unprotected control system that will follow by loss of revenue, loss of profits, production down time and expensive repairs.
Compact Control protection I load=200mA
PT. Zeus Prima Garda produces the most suitable surge and lightning arrester for tropical area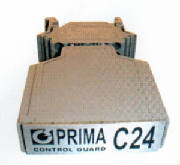 Prima Control Guard
Two pole,universal surge protective device for installation in modular terminal block systems protecting information technology systems & equipment. Two part design : base as feed through terminal to fit the protection modules surge protection modules to be selected. Safe grounding via support rail with snap on mechanism.
Technical Data :
Protection Mode=differential common mode;  Nominal Voltage Un = 5V, 24V, 110V, Max Continous Operating Voltage Uc= 6V, 26.8V, 190V,   Nominal Load Current In=100mA, Max Discharge Current (8/20us) Imax= 20kA, Voltage Protection Level at Isn=<65V (L-L), bandwidth (balanced) fg =0.85Mhz, Series resistance/line R=25 Ohm. Mounting on 35mm DIN Rail, Terminal Screw, basic component: gas arrester,inductor/resistor,Supresoor diode. grounding via DIN Rail, Dimensions 12mm width x 90mm height,  Cable: :fine stranded 2.5mm2, Accesories: cable shoes,cable glance, cable thies.